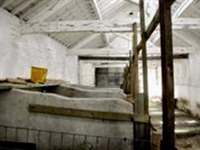 Kilworthy Farm is well known for its range of Victorian farm buildings built in 1851-1853 by Francis, the 7th Duke of Bedford. The buildings consist of the remains of a waterwheel, the largest in Devon with a diameter of 30 feet, a granary/machinery barn, three parallel cow houses, an undercroft and a separate stable yard.

The buildings reflect the most advanced and visionary thinking of the day for beef production. The scale, technological innovation and extravagance of the Kilworthy farmstead make it of national significance and justifies its Grade II* status.

Restored at a cost of £345,000 by English Heritage it opened to the public in 2003.